While we were organizing, painting, and assembling school desks, Hannah was spending the week at Nana's house for "quilting camp!"
Kay is in charge of a big quilt show in the spring, and the girls want to make and enter bed spreads. During the week, they shopped for fabric, cut the quilt pieces, pieced the top, and quilted it!
Here she is working with the quilting machine...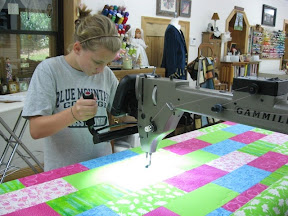 When we met in Meridian, Hannah was so proud to show me her quilt! What a fun week!
Here is the finished product!