We gave the girls the upstairs room and moved all of the school stuff downstairs. This was definitely easier said than done....
We painted the boys' beds, painted both sides of the upstairs, and did a major purge!
I turned the school desks into a new sewing table with fabric storage underneath, and removed fabric shelves from the closet (so girls can hang clothes). We hung shelves to display all of the crafty Spartan creations in the sewing room.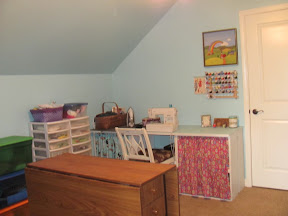 Downstairs, we turned the girls' room into our new school room. It got a coat of paint, and I put extra shelving in the closets for school books. I brought a shelf down from the upstairs to hold literature, and we got desks, chairs, and blinds. (Happy birthday to me- thank you, thank you mom!!!)
The school room is now definitely more like a traditional classroom. I'm sure we will continue to do our read allude sprawled all over the couches, but it will be nice to have a setting a little more conducive to structure.
The boys wanted the loft beds, so we took them apart, Scott took off the desk part and cut a foot off the bottom (they were too high), and we painted them. While the room was empty, I decided it needed a coat of paint too... We put blinds up and took their dresser into our room (part of our bedroom furniture anyway).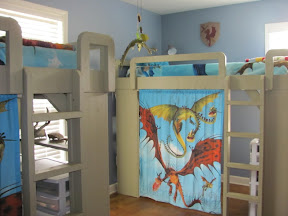 Tada! Welcome to the dragon lair!