Hannah and Sarah had their end of year recital Saturday, and they had a pew packed with grandparents for the special occasion! Sarah started piano after Christmas, and she is really enjoying it. This was Hannah's second year, and she is progressing nicely. Both girls had two pieces- a duet with Devin and a solo. Sarah's solo went super smoothly, and Hannah particularly shined during her duet, "Be Thou My Vision.".
Kaelan (Devin's sister/ friend of girls), Devin, Hannah, and Sarah (seated)
This is the group picture of Devin with her students- there has been so much improvement since last May!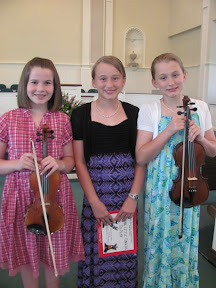 Kaelan, Sarah, and Hannah