This morning we packed and loaded the car and went to visit historic Jamestown before driving to Washington, DC. In 1607 Jamestown was founded in Virginia, and it is recognized as the first permanent settlement in the US. Our visit began with a park ranger led tour/introduction to the settlement. Hannah got called to the front to demonstrate how large some of the sturgeon were in the first year or so.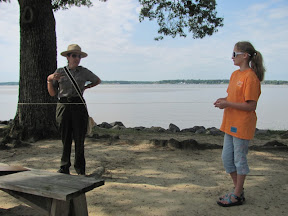 Here the kids are with a statue of Captain John Smith, famous for his stance about "if a man will not work, neither will he eat." Interestingly, some attribute the tendency toward laziness to the brackish water filling the wells... Apparently salt water/ dehydration can make you lethargic!
This reconstruction of a barracks building was an example of the "mud and stud" method they used to build buildings in the beginning.
The sight is still under excavation. We got to see real archaeologists digging for remains and artifacts! It looked like hot, tedious work, but it is definitely rewarding... They have found the entire outline of the original settlement. Behind the kids here is Part of the rebuilt fort wall. The kids are making a silly pose in front of the monument dedicated to the first legislative meeting of Virginia.
The girls posing with Pocohantas... These two pictures illustrate e differences between boys and girls. Hannah and Sarah are holding hands with Pocohantas.
Will has her in some kind of strong arm hold... He was looking up her dress, but I refused to take that picture.
After Jamestown, we headed down the road again... North to Maryland! Traffic was terrible, and our 3 hours, 9 minutes trip took over 4 hours! Our hotel is SUPER nice!! We checked in, unpacked, and prepared to brave the metro.