We have had a busy summer, but there's always time for fun!
Especially some good, country fun, like playing in the hog feed barrel!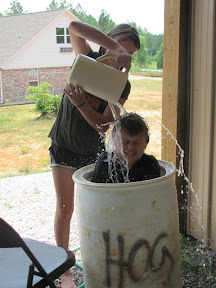 A friend of ours in town, Shelley Trout, has been diagnosed with breast, bone, and brain cancer. The town put on a fundraiser called "Night out with the Trouts." Hannah was at Nana's making her quilt, but Sarah and the boys participated in the 1 mile run. Sarah ran 6:45, Will ran 8:53, and Josh ran 10:41. Afterward, we stayed until dark-thirty and watched Megamind on the blow up screen.
It was a lot of fun! By that time it was reasonably cool, and we had snacks and drinks from the concession stand. (above: Christine, Will, Brayden, Avelee, Sarah. Seated: Josh, Scott, Savannah)
Several people from our church came, and we enjoyed the evening together! (above: Elizabeth and Hannah there was a great turn out, and over $30,000 was raised!
The boys went to basketball camp at BMC this June, and they learned some great skills... They also learned that they need to practice! Since camp, they have enjoyed shooting hoops in the gym when we go to the school for weight room duty.
Below: Josh, Men's Coach JD Parker, and Will
Will made a friend during the week, and they are hoping to attend some Topper basketball games together this winter!
During the week of basketball camp, we had a special visitor. Grace Orrick, Sarah's friend from when we lived in Kentucky, came to stay a few days. She would ride to Kentucky with Hannah and Scott in a few days.
My sister came one day to order her school curriculum and visit, and she brought tie-dye stuff! So fun!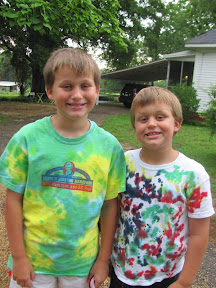 We went swimming at the Autry's one day, and the kids had a great time practicing dives and tricks.
Hannah
Sarah
Will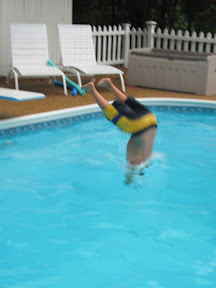 Josh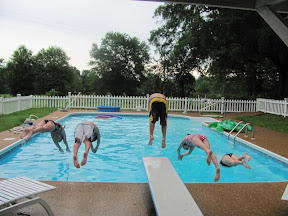 And all together now...
The next week Scott went to spend his "man week" with Jim Orrick and Josh Bullock in Kentucky. Hannah went with him to spend the week with her friend in Louisville, Drew.
While they were gone, we stayed busy around the house and then took Sarah to Kay's for her turn at quilting camp!