The next day I went on an early long run. I always enjoy exploring new places while running! This time I ran over a long bridge joining our resort with Charleston. I wanted to make it all the way down to the battery, but I reached my turn around time several blocks short. Because I had no idea where I was going, I carried my phone with me. While running, I wanted to show things to the kids, so I snapped a few quick pictures!
This time away from my children was different than any other; it was much more technologically advanced! I would randomly snap pictures with my phone and email them to the kids... Little things like, "Hey, we are in an old fashioned candy store!" Or, "Look at that battleship!"
After cleaning up from the run, we headed out to tour plantations. You see, the plantation owners and the owners of the beautiful city homes were at one time one and the same. They would live on their plantations for most of the year, and then go into town for the social season. Just guess how much one of those second homes in the city might cost a buyer today? Between 7-13 million!!! I think you could buy our entire county for that! (location, location, location!)
But I digress. Plantations. The first one we visited was built in the 1700's. At the time, the owner wanted to build an English Manor house... It was like something out of Pride and Prejudice!
I suppose that's why, the entire time we were touring, I kept thinking to myself in a British accent (much like Elizabeth Bennett's), and quoting random Jane Austin lines. You know, like, "Shelves in the closet! Happy thought indeed! Or, "The window glazing alone cost over 5,000 pounds!"
Occasionally, I would change stories and pull out quotes like, "A pokey hall and a fire that smokes.". Out of all the homes we toured, this would have been my choice. It was absolutely beautiful, and I loved that everything had been
Preserved rather than updated. I could just imagine using this staircase to go upstairs to the drawing room for a ball or music. Did you know that entertaining was done on the second floor so that it would be less dusty and a little more breezy?
This is the entrance that guests would have originally used, because people would have travelled by river boat rather than road.
Here are Hillary and I... Taking a break on my lawn down by the rivah, before we head up to have some iced tea.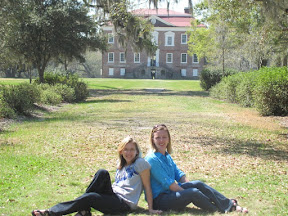 I don't have any pictures from the next plantation. Strangely enough, I got really sick and had to go sit down for a while. The gardens were the main attraction here, and I know they were beautiful.
We left the second plantation hunting for food... And found some fabulous grouper sandwiches and a University of Memphis basketball game at a little joint on the water.